Goto Articles
Speciosum Repotting
Speciosum var speciosums Wattelow x Neville (WatNev), a good Orchid, but, cannot compete against the likes of Windermere, Neil's Choice, National White, William – WatNev needs to be moved on. However, to make it more manageable, and to recoup some of its cost, it was broken up in October 2015 with the intention of giving away or selling most of the pieces next season – it may be possible that some pieces may make it into my garden and be placed on sandstone rocks.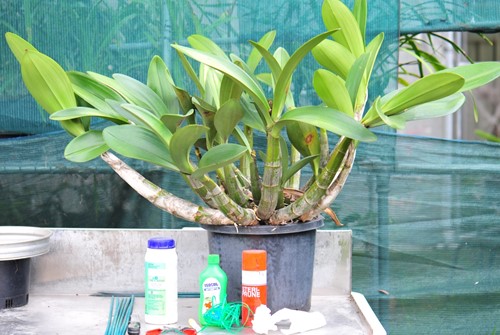 Above photo shows WatNev in all its glory and some of the items that were used during the division and repotting – the bench and bread knife were thoroughly cleaned with rubbing alcohol (Isocol), the secateurs have come out of the alkaline solution and are sterile, the blue cap container is Initiator balls containing the insecticide 'Imidacloprid' (same as Confidor Balls – but in bulk it is much cheaper), Steri-Prune to seal any cuts.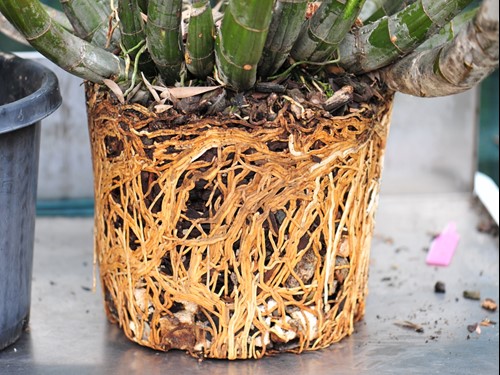 WatNev is removed from the pot, root system is good, and bark is sound, last repotted 2 years ago – now the fun commences.


2/3 of the root removed leaving a 1/3 root ball that can be used as leverage to when splitting WatNev into pieces 


At a natural divide make a V cut half way through and attempt to pull apart with brute force - this is the reason for leaving some of the root system


Success, separated and very little cane damage
Repeat the splitting process by looking for a natural break, cut again and separate, in all 7 pieces


 175mm Port Squat Pots, crocked with 25 to 50 mm Bob Bishop's Bark, note the 4 holes, 2 at the back to tie down the back of the speciosum and the sides to secure the 10mm flower stick – a figure 8 is used to secure the flower sticks - pictures



A speciosum belonging to Ted Walmsley - he has developed a growing method that ensures large vertical canes for ease of handling.